ansi asme b16.5 class 150 steel threaded blind flanges
Product Description
#detail_decorate_root .magic-0{border-bottom-style:solid;border-bottom-color:#fff;font-family:Roboto;font-size:24px;color:#59c7f9;background-color:#f0f8ff;text-align:left;font-style:italic;border-bottom-width:2px;padding-top:8px;padding-bottom:4px}#detail_decorate_root .magic-1{vertical-align:top}#detail_decorate_root .magic-2{vertical-align:top;display:block;padding-right:4px;box-sizing:border-box;padding-left:4px}#detail_decorate_root .magic-3{vertical-align:top;padding-bottom:4px;box-sizing:border-box;padding-top:4px}#detail_decorate_root .magic-4{padding:0;margin:0;white-space:pre-wrap;font-size:14px}#detail_decorate_root .magic-5{text-align:center}#detail_decorate_root .magic-6{font-size:24px}#detail_decorate_root .magic-8{color:#0029ff}#detail_decorate_root .magic-9{width:750px;border-collapse:collapse}#detail_decorate_root .magic-10{min-height:18px;padding:5px 10px;width:126px;min-height:18px;box-sizing:content-box}#detail_decorate_root .magic-11{min-height:18px;padding:5px 10px;width:569px;min-height:18px;box-sizing:content-box}#detail_decorate_root .magic-12{width:750px}#detail_decorate_root .magic-13{overflow:hidden;width:750px;height:599.5989304812834px;margin-top:0;margin-bottom:0;margin-left:0;margin-right:0}#detail_decorate_root .magic-14{margin-top:0;margin-left:0;width:750px;height:599.5989304812834px}#detail_decorate_root .magic-15{padding:0;margin:0;color:#333;font-size:14px;padding-left:4px;font-weight:bold;white-space:pre-wrap}#detail_decorate_root .magic-16{font-size:18px}#detail_decorate_root .magic-17{overflow:hidden;width:750px;height:360.9375px;margin-top:0;margin-bottom:0;margin-left:0;margin-right:0}#detail_decorate_root .magic-18{margin-top:0;margin-left:0;width:750px;height:360.9375px}#detail_decorate_root .magic-19{font-size:14px}#detail_decorate_root .magic-20{overflow:hidden;width:750px;height:400px;margin-top:0;margin-bottom:0;margin-left:0;margin-right:0}#detail_decorate_root .magic-21{margin-top:-101px;margin-left:-2px;width:750px;height:499.16805324459233px}#detail_decorate_root .magic-22{overflow:hidden;width:750px;height:747.9919678714859px;margin-top:0;margin-bottom:0;margin-left:0;margin-right:0}#detail_decorate_root .magic-23{margin-top:0;margin-left:0;width:750px;height:747.9919678714859px}#detail_decorate_root .magic-24{overflow:hidden;width:247.33333333333334px;height:247.33333333333334px;margin-top:0;margin-bottom:0;margin-left:0;margin-right:0}#detail_decorate_root .magic-25{margin-top:0;margin-left:0;width:247px;height:247px}#detail_decorate_root .magic-26{overflow:hidden;width:247.33333333333334px;height:247.33333333333334px;margin-top:0;margin-bottom:0;margin-left:4px;margin-right:0}#detail_decorate_root .magic-27{overflow:hidden;width:247.33333333333334px;height:247.3333333333334px;margin-top:0;margin-bottom:0;margin-left:0;margin-right:0}#detail_decorate_root .magic-28{overflow:hidden;width:247.33333333333334px;height:247.33333333333337px;margin-top:0;margin-bottom:0;margin-left:4px;margin-right:0}#detail_decorate_root .magic-29{overflow:hidden;width:247.33333333333334px;height:247.33333333333337px;margin-top:0;margin-bottom:0;margin-left:0;margin-right:0}#detail_decorate_root .magic-30{width:446px}#detail_decorate_root .magic-31{overflow:hidden;width:446px;height:334.5px;margin-top:0;margin-bottom:0;margin-left:0;margin-right:0}#detail_decorate_root .magic-32{margin-top:2.3786666666666667px;margin-left:-2.3786666666666667px;width:446px;height:334px}#detail_decorate_root .magic-33{width:300px;display:flex;flex-direction:column;margin-right:0;margin-left:4px}#detail_decorate_root .magic-34{overflow:hidden;width:247.33333333333334px;height:349.8349834983499px;margin-top:0;margin-bottom:0;margin-left:0;margin-right:0}#detail_decorate_root .magic-35{margin-top:0;margin-left:0;width:247px;height:349px}#detail_decorate_root .magic-36{overflow:hidden;width:247.33333333333334px;height:349.4709851551957px;margin-top:0;margin-bottom:0;margin-left:4px;margin-right:0}#detail_decorate_root .magic-37{margin-top:0;margin-left:0;width:247px;height:352px}#detail_decorate_root .magic-38{overflow:hidden;width:247.33333333333334px;height:329.97176470588244px;margin-top:0;margin-bottom:0;margin-left:0;margin-right:0}#detail_decorate_root .magic-39{margin-top:0;margin-left:0;width:247px;height:329px}#detail_decorate_root .magic-40{overflow:hidden;width:247.33333333333334px;height:329.44399460188936px;margin-top:0;margin-bottom:0;margin-left:4px;margin-right:0}#detail_decorate_root .magic-41{margin-top:0;margin-left:0;width:247px;height:351px}#detail_decorate_root .magic-42{margin-top:0;margin-left:0;width:247px;height:345px}#detail_decorate_root .magic-43{min-height:18px;padding:5px 10px;width:720px;min-height:18px;box-sizing:content-box}#detail_decorate_root .magic-44{vertical-align:top;display:inline-block;padding-right:4px;width:50%;box-sizing:border-box;margin-bottom:-4px;padding-left:4px;margin-top:-4px}#detail_decorate_root .magic-45{vertical-align:top;box-sizing:border-box;padding-top:4px}#detail_decorate_root .magic-46{width:371px;height:278.25px;overflow:hidden}#detail_decorate_root .magic-47{position:relative;left:1px;top:-42px;width:428px;height:321px}#detail_decorate_root .magic-48{padding:0;margin:0;color:#333;font-size:14px;line-height:20px;font-weight:bold;white-space:pre-wrap}#detail_decorate_root .magic-49{width:371px;height:278px;overflow:hidden}#detail_decorate_root .magic-50{position:relative;left:-14px;top:0;width:416.7157464212679px;height:278px}#detail_decorate_root .magic-51{overflow:hidden;width:750px;height:344px;margin-top:0;margin-bottom:0;margin-left:0;margin-right:0}#detail_decorate_root .magic-52{margin-top:6px;margin-left:0;width:750px;height:383.70406189555126px} Products Description ansi asme b16.5 class 150 steel threaded blind flanges
| | |
| --- | --- |
| Material | Aluminum, Alloy, Brass, Bronze, Stainless Steel, Metal |
| Drawing | Provide by customer, or design according as the sample |
| Mould | Design and produce by yourself |
| standard | ASTM,ANSI,DIN ,JIS, |
| Surface treatment | polish,powder coating,brushed,plated,painting |
| MOQ | 1 Sample |
| Logo | Can be made as your own logo, your own brand |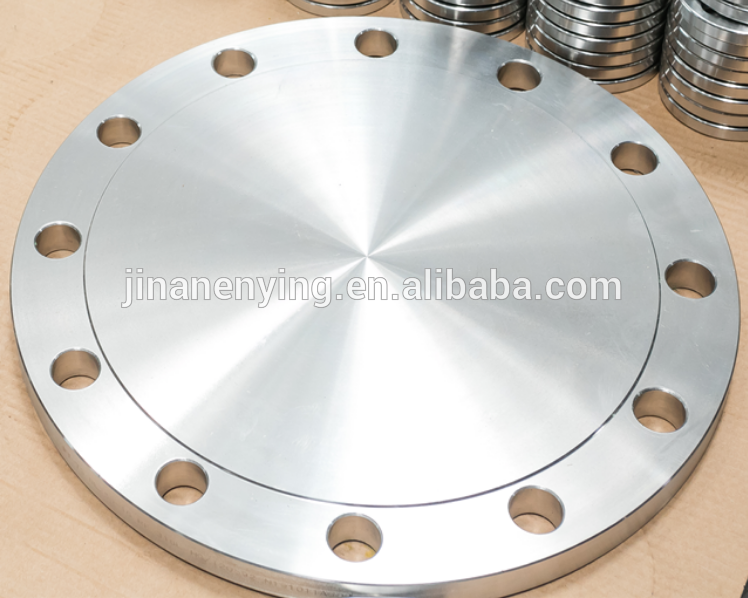 The products shown here are made to specific customer requirements and indicate the type and standard of flanges that our company can manufacture. production process Forging Service:
Forging is a manufacturing process involving the shaping of metal using localized compressive forces. we can offers open die forging, closed die forging and ring forging services. Material can be steel, iron and non-ferrous. Material can be handled include steel, iron, non-ferrous. Single component weight range is from 0.1Kg to 50,000Kgs.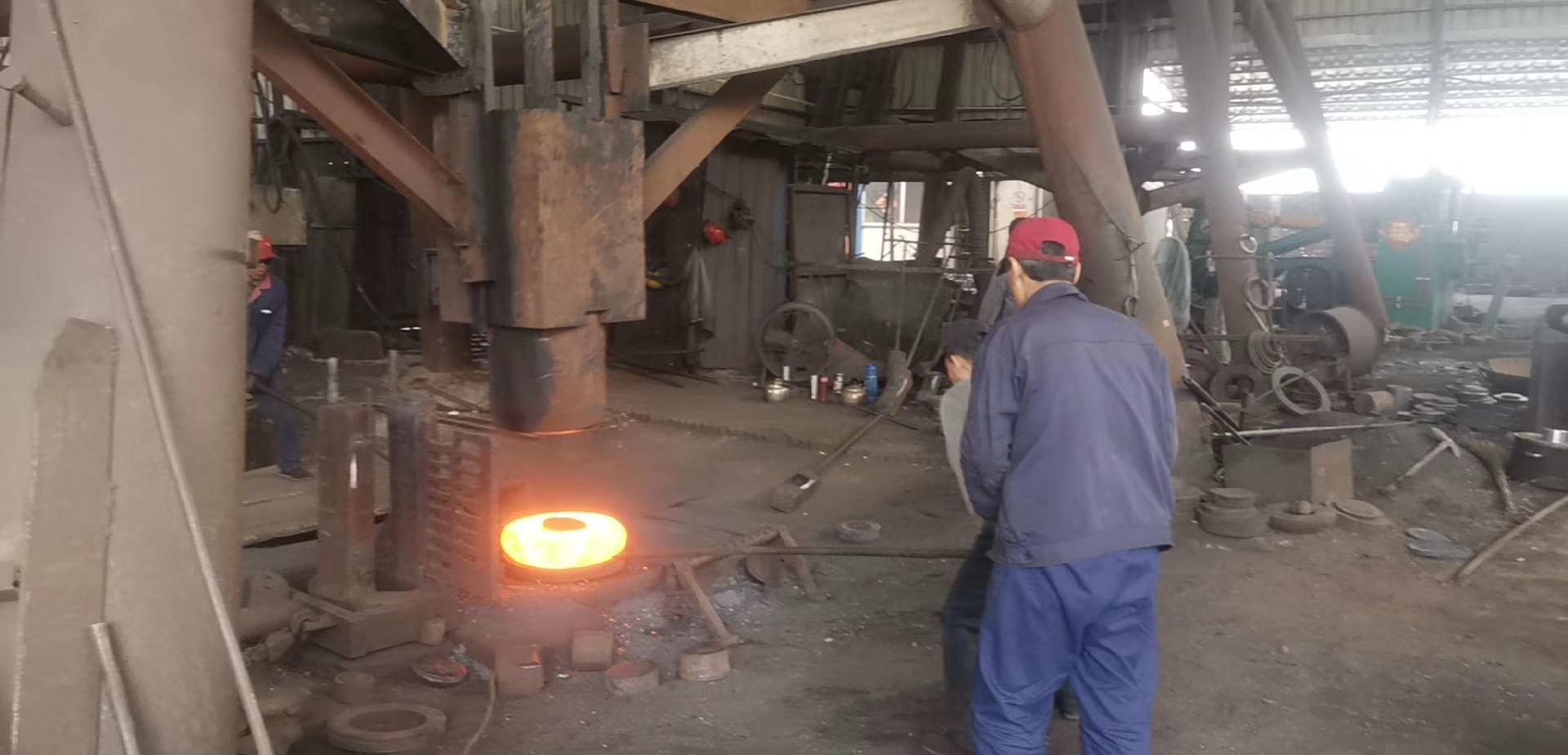 MachiningMachining is any of various processes in which a piece of raw material is cut into a desired final shape and size by a controlled material-removal process. We have more than 60 sets precision machines incl. CNC center, boring, milling, lathing, etc., and more than 300 inspection instruments incl. 3 sets CMM with grade μm. Repeated tolerance can be maintained as 0.02mm.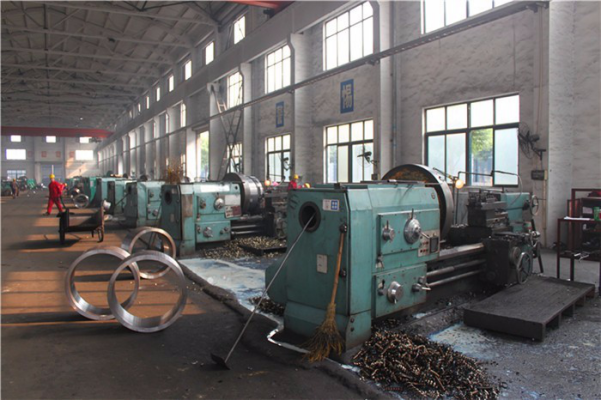 Test Each piece of flange will undergo strict inspection and inspection before delivery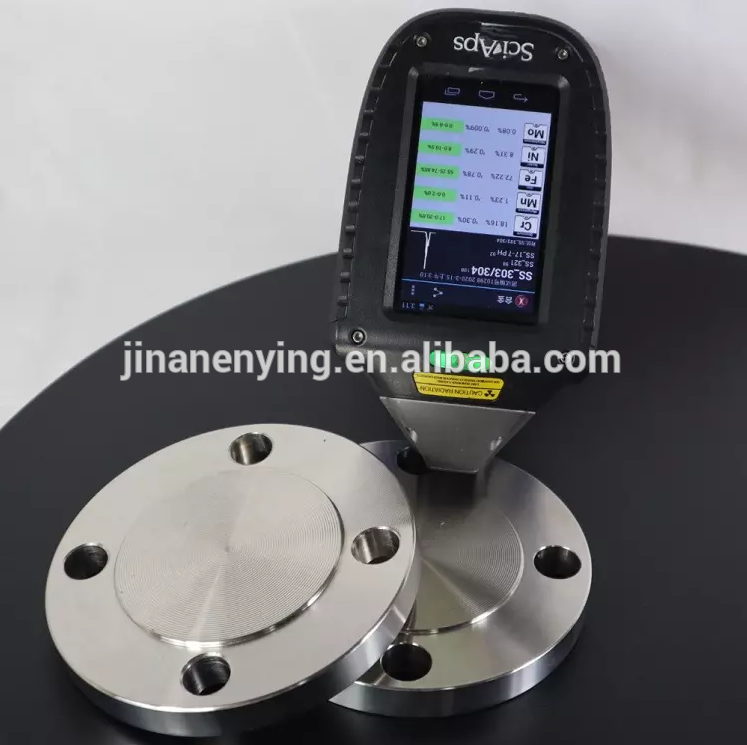 Production show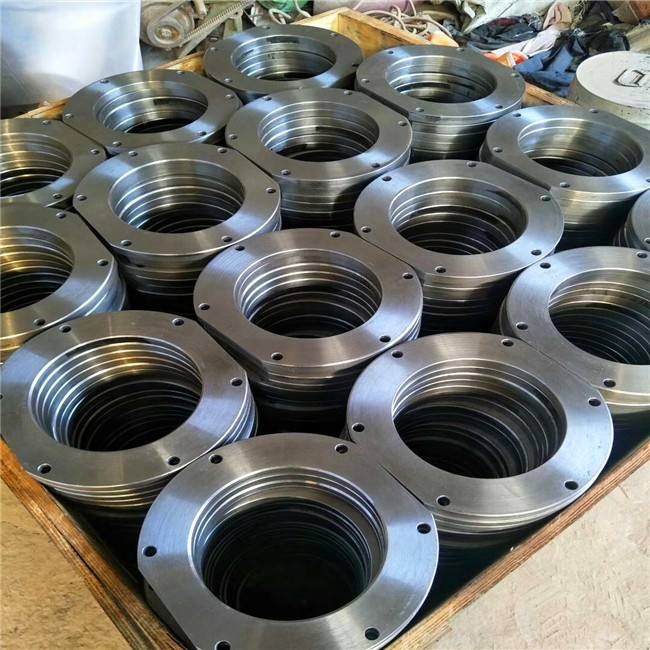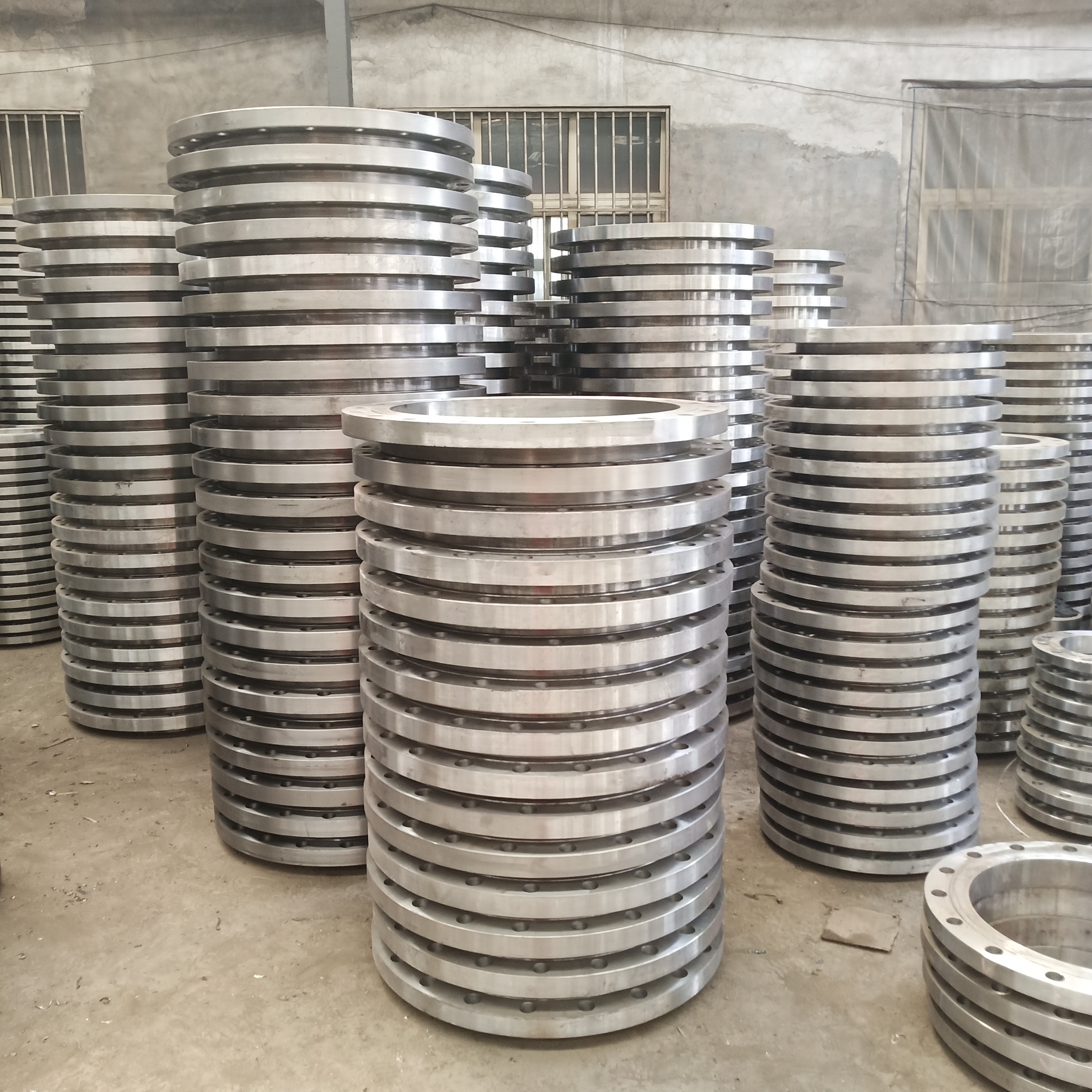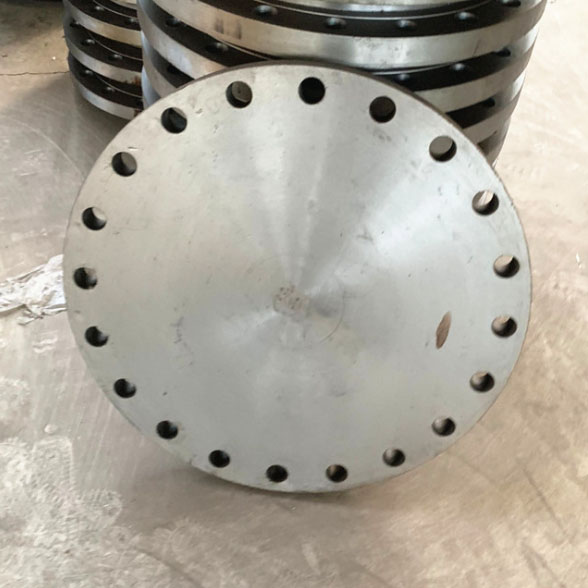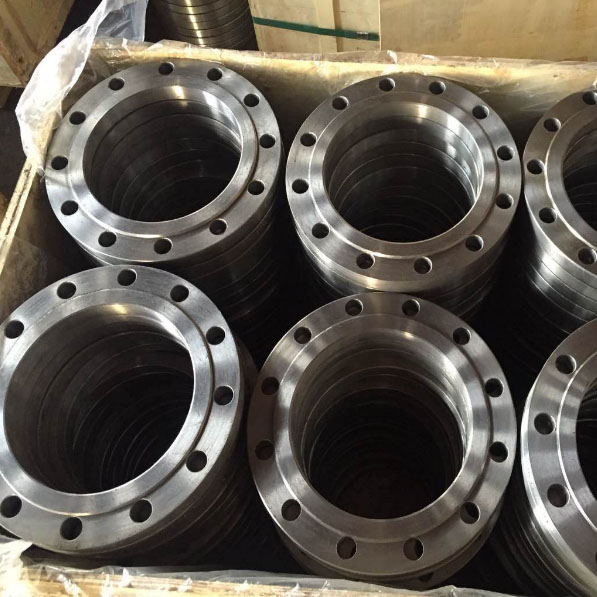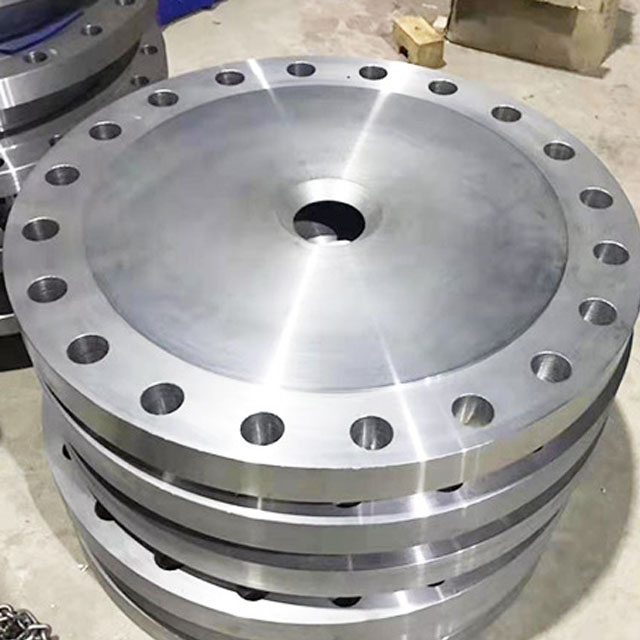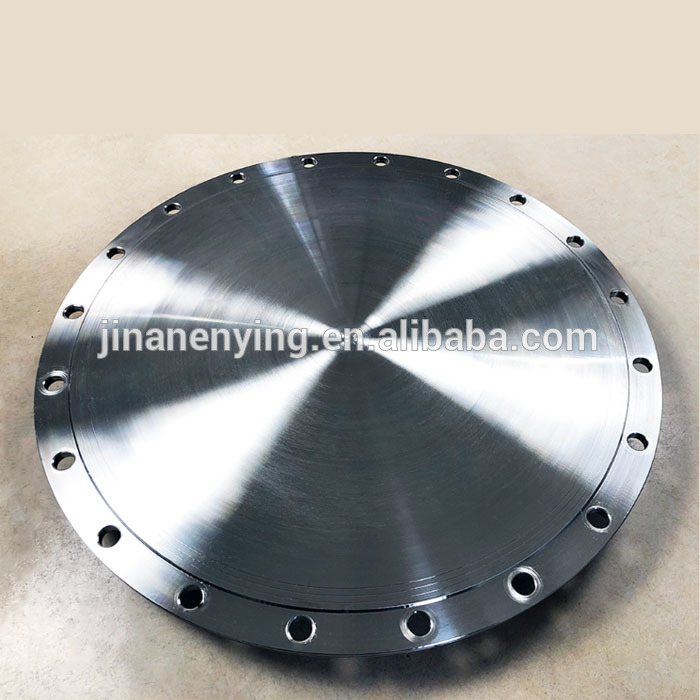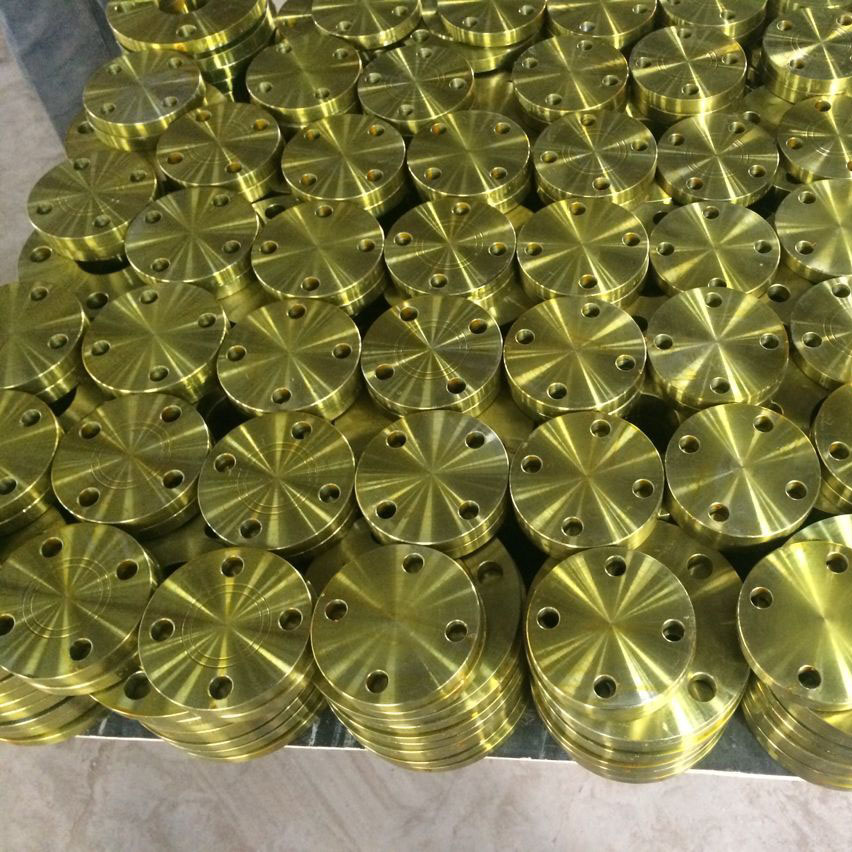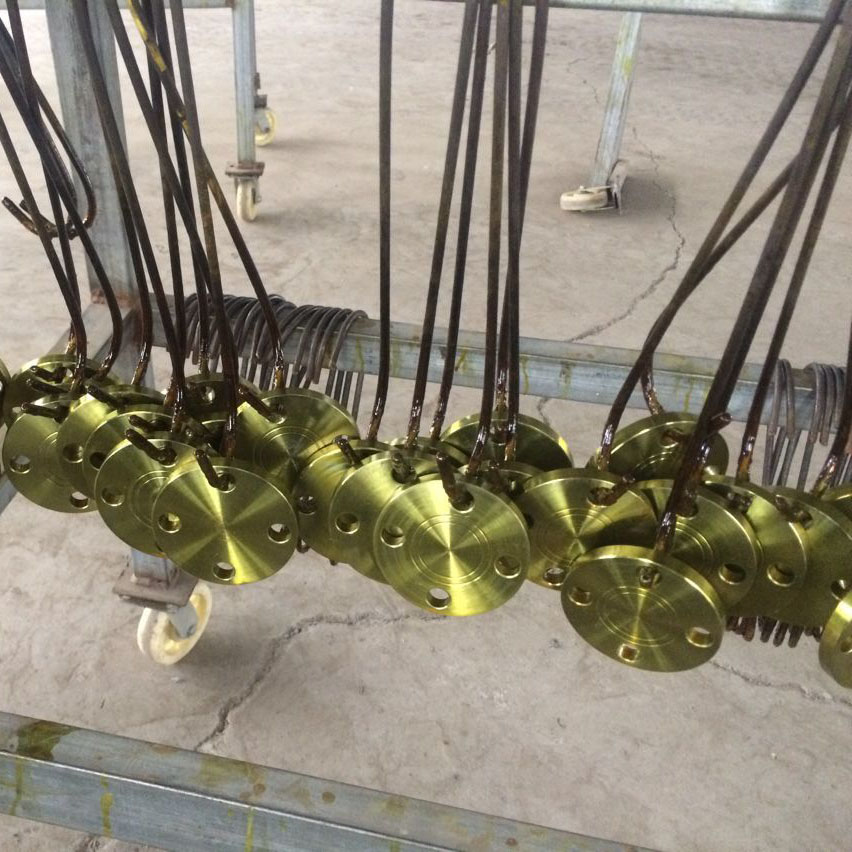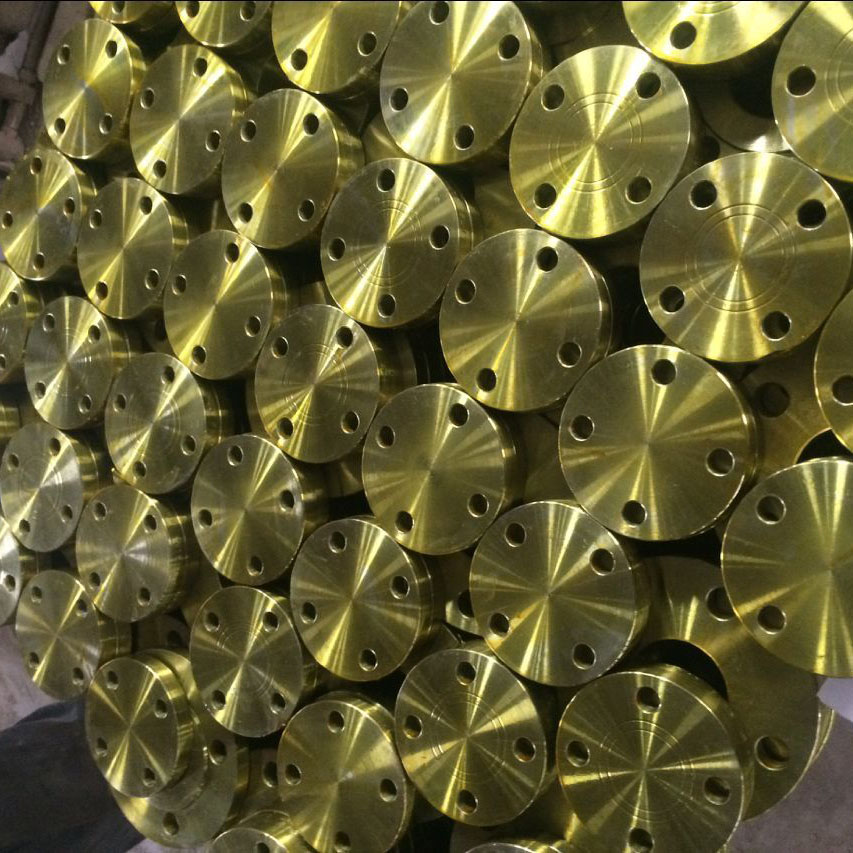 company introduction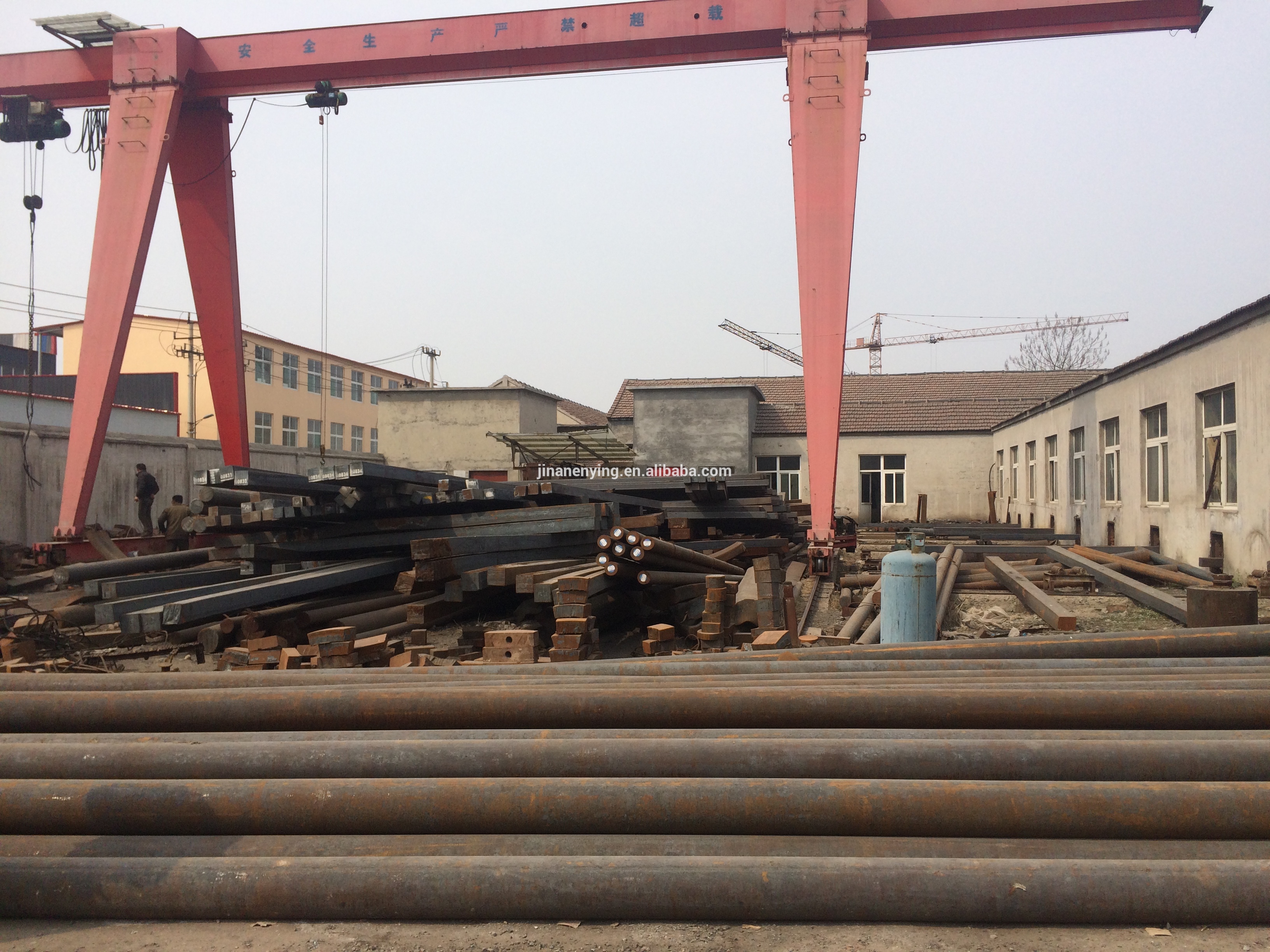 Jinan enying is a high-tech flange manufacture ,Besides ,At present, it has over 50 employees (including more than 10 engineers
and technicians), 10 or more sets of production equipment,The company mainly produces American standard, German standard, British
standard and Japanese standard flange plates and also can produce and process flanges according to customers' samples or drawings. The product quality is totally in line with the national and international standards. The company shall survive by quality and
develop by credit and shall constantly introduce advanced technology and develop new products to serve users better. At the same time, the company warmly welcomes both domestic and foreign customers for common development through technical cooperation and investment. Certifications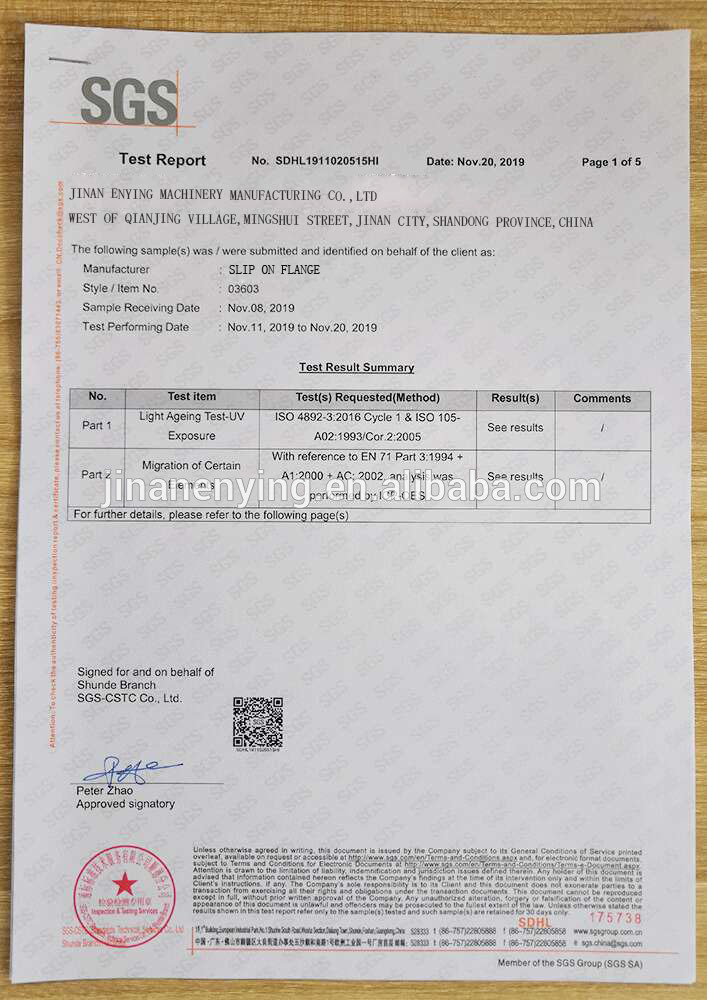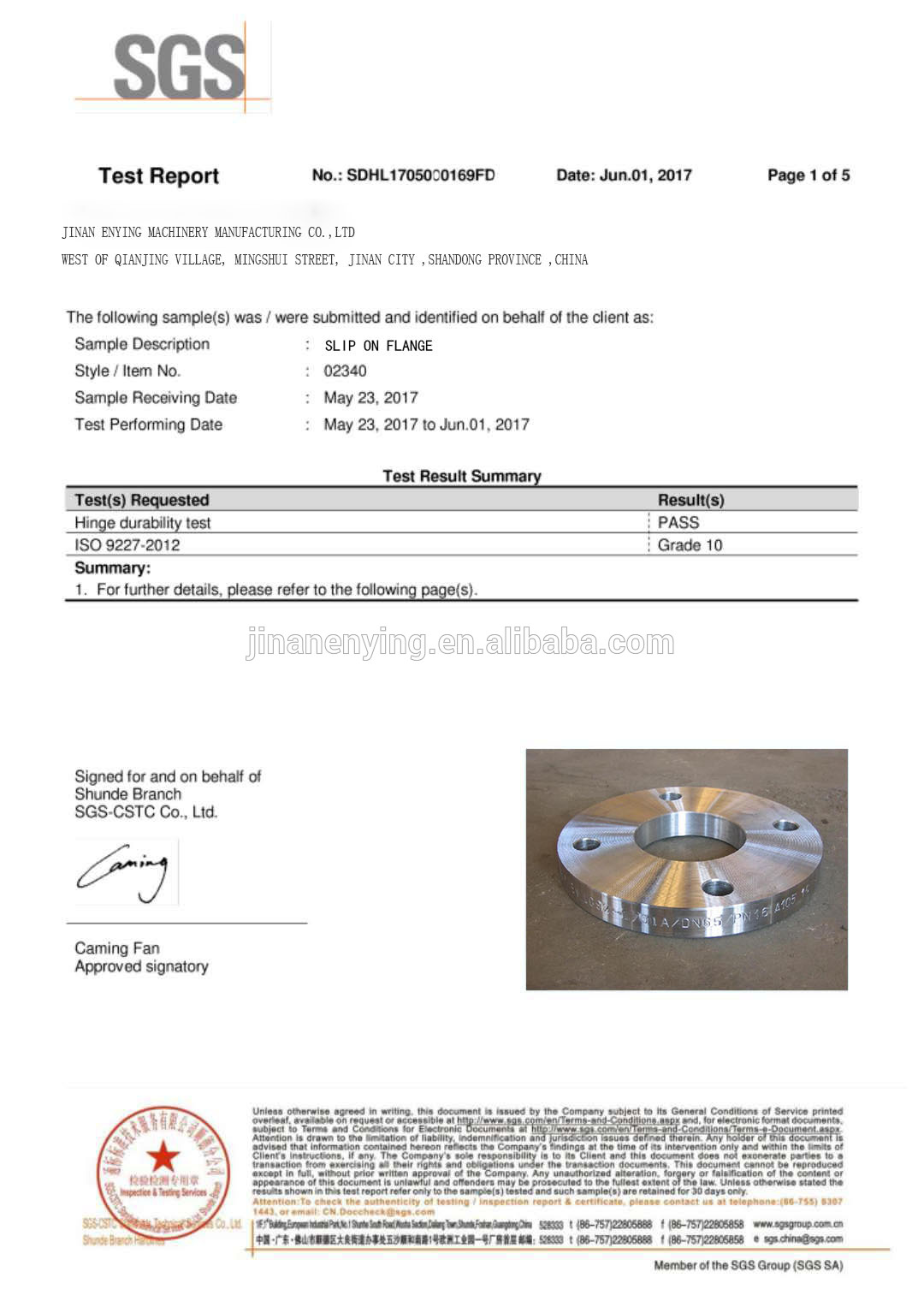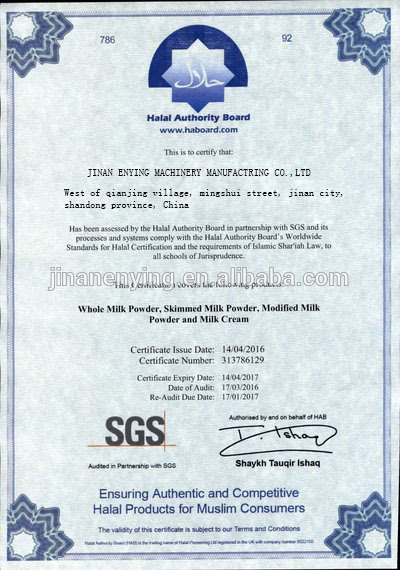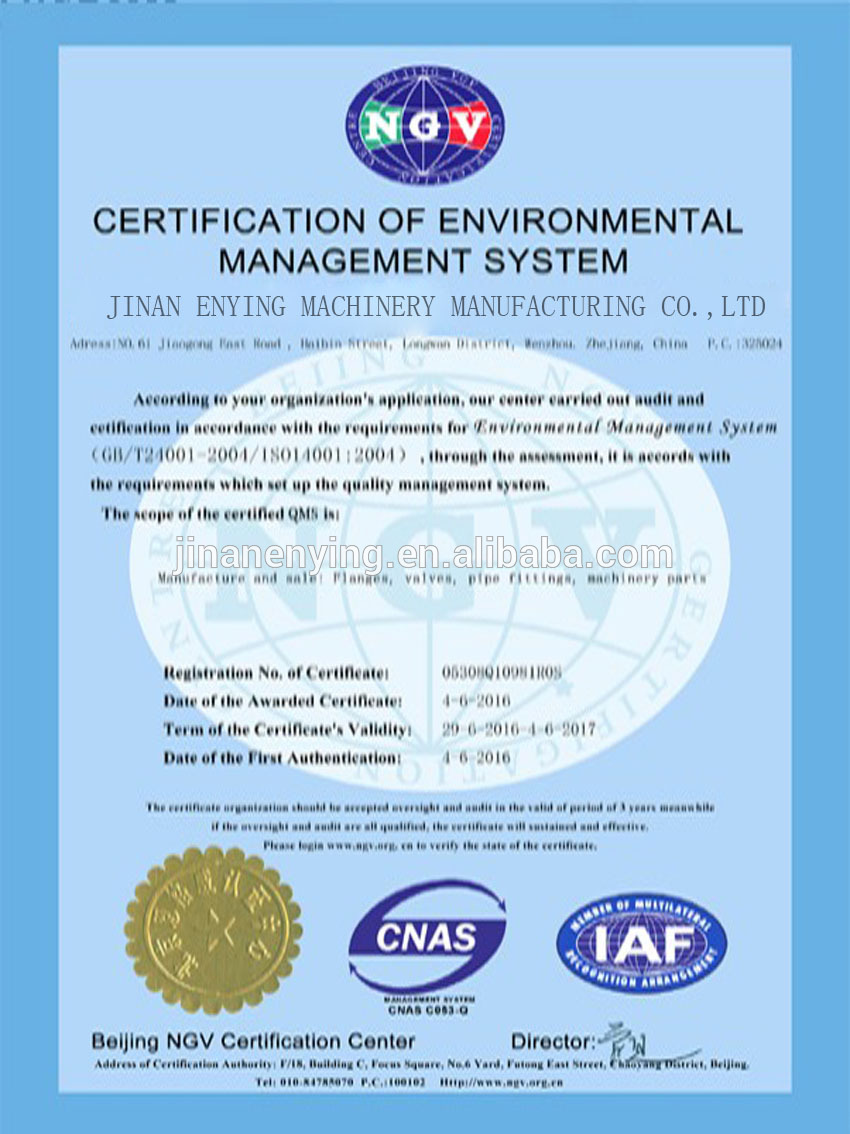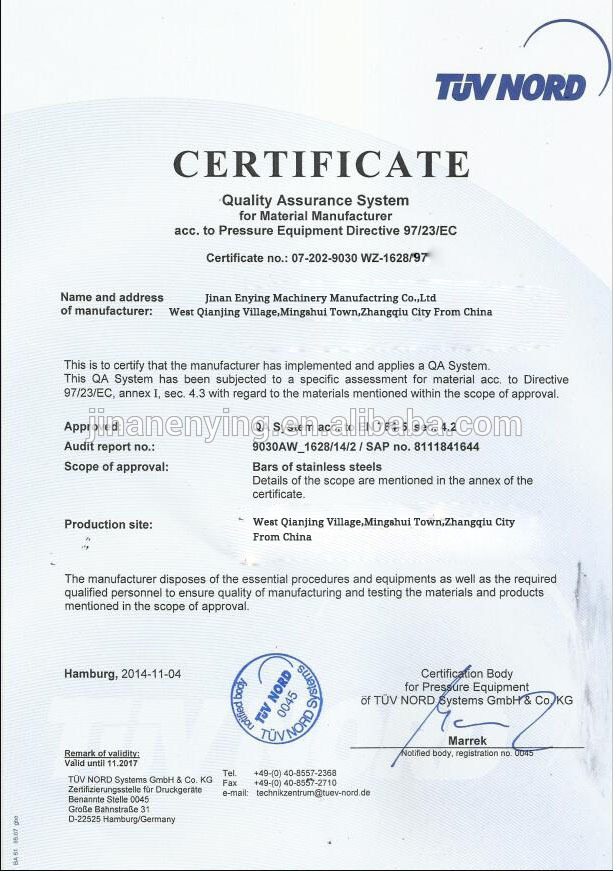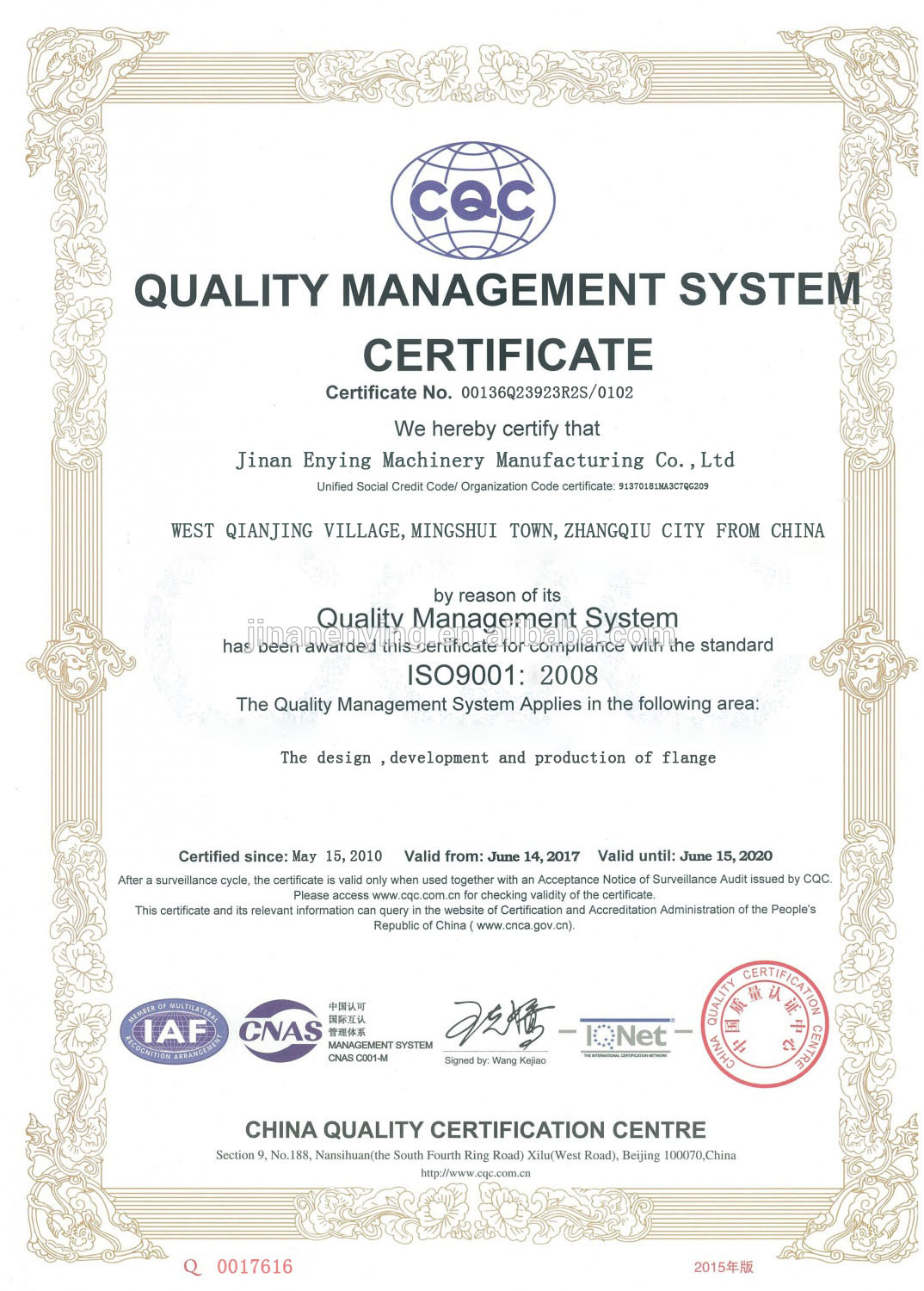 Why Choose Us
1.Guaranteed Quality: strict process-controlled measures & advanced quality-check equipment

2. In-time Delivery: shipment in 15 – 20 days after order confirmation.
3. Competitive Prices: we will offer you the quotation according to your detailed demand.
4. Small Minimum Order Quantity: any order quantity is ok for us .
Packing and delivery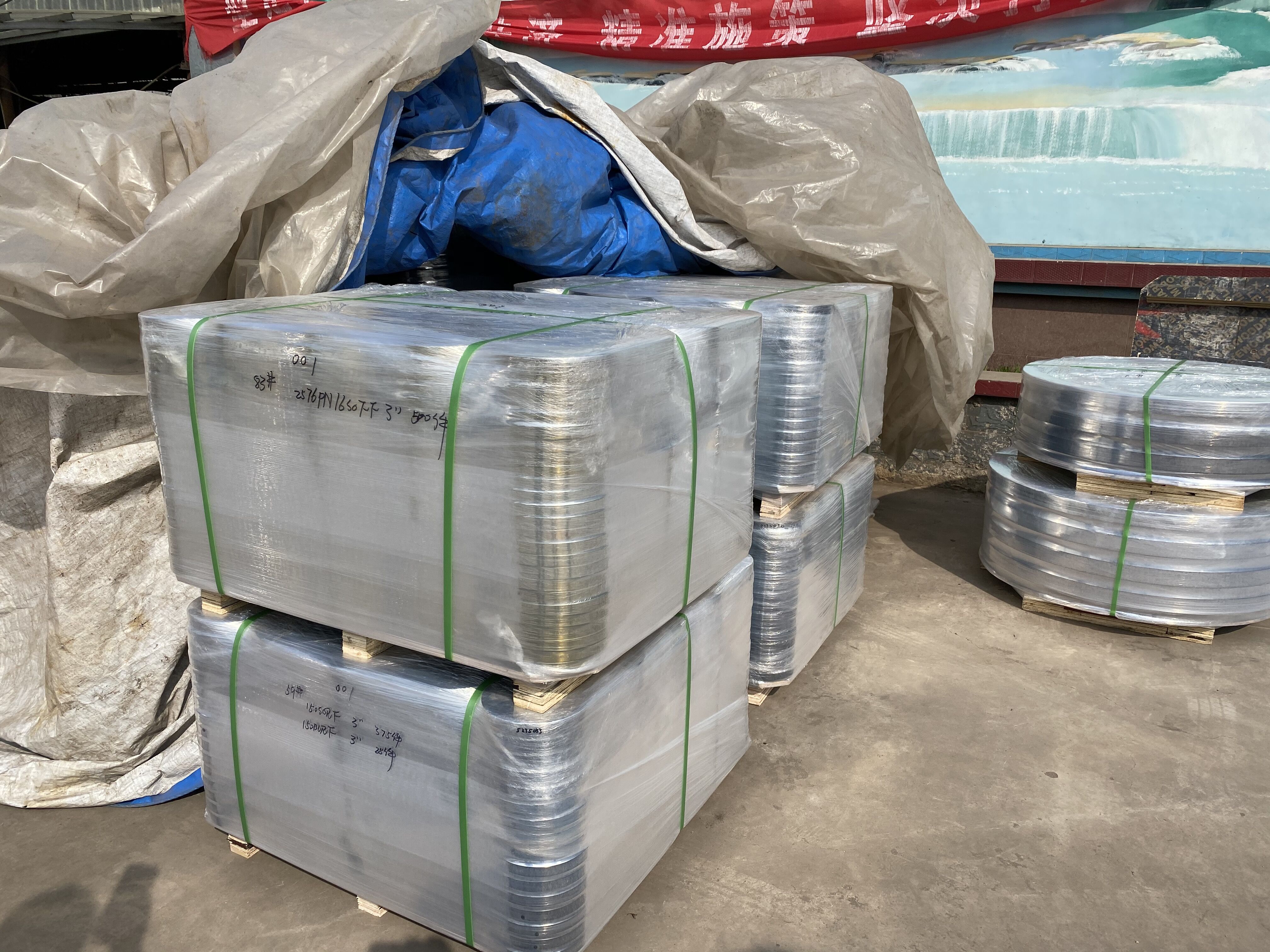 Packing 1). Plywood pallet ;
2). Wooded pallet ;
3). Wooden case ;
4).According to customer's requirement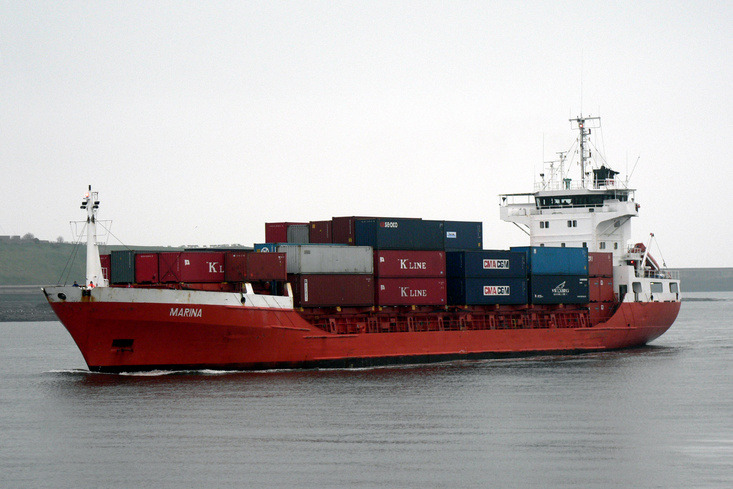 Delivery We mainly recommend the customer using sea transpotation.also can delivery accroding to cutomer's request . Come back to homepage Contact us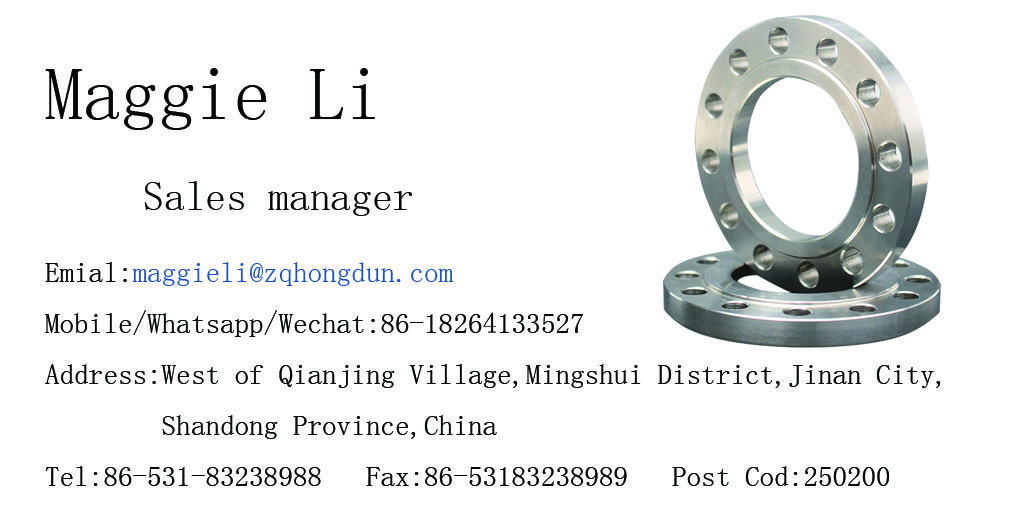 Contact us if you need more details on steel flanges ansi b16.5. We are ready to answer your questions on packaging, logistics, certification or any
Other
aspects about ansi b16.5 class 150 flange、ansi asme b16.5 threaded flanges. If these products fail to match your need, please contact us and we would like to provide relevant information.
Product Categories : blind flange